Crowns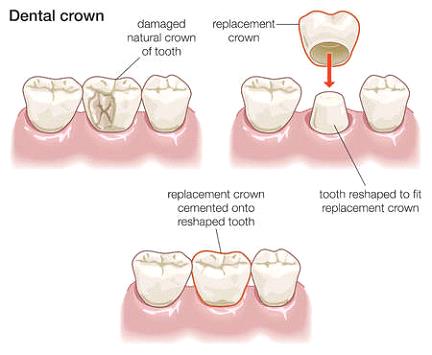 A dental crown is a cover that surrounds and strengthens a weakened tooth. Some people refer to it as a cap. Teeth with large fillings or that are severely broken down benefit from crowns because it can help prevent cracking or breaking the remaining weakened tooth structure. Crowns restore teeth to their original shape, function, and color. Crowns are also used on teeth following root canals. Additionally, crowns can be used for cosmetic enhancement and for fractured teeth.
In our office Dr. Burgess and Dr. Bardell will discuss crown choices, and help you make an educated decision on what the best option is for you. The main types of crowns are porcelain, porcelain fused to metal, and gold. If you have any questions about the options, please make an appointment and discuss treatment options with Dr. Burgess or Dr. Bardell.
Bridges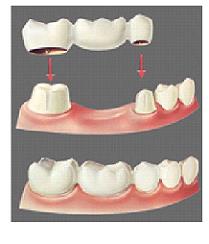 A bridge is a non-removable prosthetic tooth used to replace one or more missing teeth by joining adjacent teeth with dental crowns. The bridge consists of a crown on each side of the gap left by the missing tooth and a false tooth that is attached to the crowns. A bridge looks and functions like a natural tooth. Bridges are an excellent option to esthetically replace one or multiple missing teeth. Replacing missing teeth is important to restore your smile, improve chewing, and maintain the shape of your face. It also keeps other teeth from drifting out of position. e have taken multiple continuing education classes in cosmetic dentistry.
Dr. Burgess and Dr. Bardell can discuss the treatment options to replace missing teeth with a bridge. Bridges can be made of porcelain fused to metal, or gold. Our office works closely with the lab to make sure the esthetics and function are of superior quality. The dentists in the office have taken multiple continuing education classes in cosmetic dentistry.
Dental Implants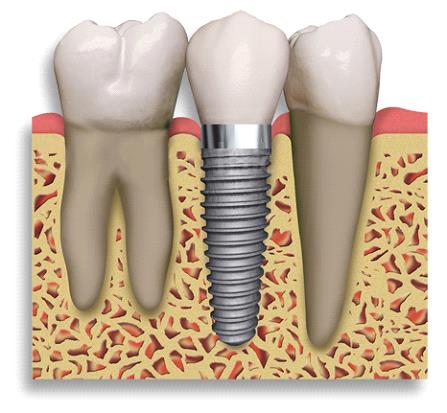 Dental Implants are titanium artificial tooth roots anchored into your jaw to replace a tooth or stabilize a denture. Placing implants is a highly technical procedure. After our initial consult, we refer to a specialist for implant placement. Once the implant is placed, Dr. Burgess and Dr. Bardell secure an attachment to the implant and cement a crown to match the adjacent teeth.
Benefits of dental implants include their reliability and high success rate. They do not require crowns to be placed on the adjacent teeth like bridges do, which is beneficial if the adjacent teeth have never had a filling or cavity. Implants also are free standing and do not decay.
Dr. Burgess and Dr. Bardell have been restoring implants for years. They work with the lab and the specialist's office to make sure that your case is successful and esthetically superior.
Dentures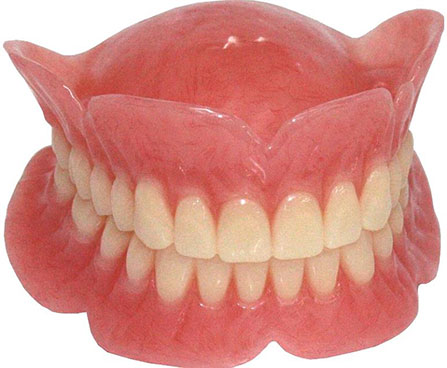 Dentures are removable prosthetic teeth that replace missing teeth and restore your smile. Complete dentures replace all of your missing teeth so you are able to eat and speak more naturally than you could without teeth.
Dentures can greatly improve not only your smile but your overall appearance. Without teeth in place, facial muscles sag and deteriorate, making the face look older. With a denture in place the face retains more of its natural appearance.
Dr. Burgess and Dr. Bardell work with a local lab, which is beneficial because if final changes are needed to make the denture perfect prior to processing, we can work with the lab directly while the patient is at the office to fix any esthetic issues.