---
Meet Our Dentist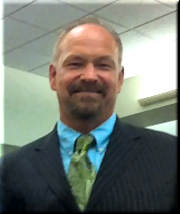 Dr. Mark Burgess, DMD
Dr. Mark Burgess
Dr. Mark Burgess holds a Bachelors of Science degree in Biomedical Science from Southern Illinois University at Edwardsville and a DMD from Southern Illinois University School of Dental Medicine. He is a member of the American Dental Society, the Illinois State Dental Society, the Chicago Dental Society, and the McLean County Dental Society. He celebrated his 35th year of practice in 2022.

Dr. Burgess is known for his down-to-earth manner and good sense of humor. His patients have grown to appreciate his genuine sincerity and personal interest in their dental care and overall well-being. He and his wife live in Normal and have two daughters and a son. Their oldest daughter is a funeral director for Kibler-Brady-Ruestman Funeral Home. His other daughter lives in Heyworth, with her husband, and is a 4th grade teacher at Heyworth Elementary School. Their son is a recent graduate of Mizzou and is a waiter/bartender at Destihl in Normal and is engaged to be married in 2023. Dr. Burgess and his wife also have two miniature dachshunds.

Dr. Burgess has served on the Boards of The Mulberry School in Normal (including a 3-year term as President), Unit 5 Citizens Advisory Council and the McLean County Children's Protection Advocacy. Dr. Burgess and his family are members of Wesley United Methodist Church in Bloomington.


---
Receptionists
Our Reception Staff, from left, Jody, Colette as well as Angie, Brandy, and Kelli (not shown)
Jody - Accounts Manager
Jody has officially retired after 28 years at our office. We wish her the best and will miss her dearly.
Colette - Receptionist
Colette begins each day teaching Pre-Kindergarten at Mulberry School in Normal and is also the Academic Coordinator. She has a Bachelors of Science degree in Early Childhood Education from Illinois State University. After school she brings her kind demeanor and organizational skills to our office to help coordinate the front desk operations. Colette and her husband have a daughter, Brianna, who is a nurse in the cardiac ICU at Barnes Jewish Hospital in St. Louis. Colette is a season ticket holder to ISU men's basketball and she and her husband are Green Bay Packer fans as well as the St. Louis Blues and Cardinals. Colette has two dogs, Gidget, a Bavarian Mountain Hound, and Myla, a Boston Terrier.
Angie - Receptionist (Bio Coming)
Brandy - Receptionist (Bio Coming)
Kelli - Operations Manager
Kelli, a native of Bloomington, has been a patient at our office for 25 years prior to joining our team in 2017. She brings a wealth of knowledge regarding medical and dental insurance and is happy to assist our patients with insurance and financial needs. Her passion for customer service is evident in her daily interactions with our patients. In her spare time Kelli enjoys boating and motorcycling with her husband of 39 years, Scott.
---
Dental Hygienists
Our Registered Dental Hygiene team includes Erin, Julie, Ellie, Katie, Hiram, Lena
Erin - Dental Hygienist
Erin joined our office as a dental assistant in 2005. She then went on to Lakeland Community College and became a registered dental hygienist. Erin, her husband and her two sons reside in rural Cornell. They enjoy bike riding and spending time with their extended family. Erin has an eye for a bargain and enjoys frequenting antique auctions and flea markets. Everyone enjoys Erin's smiles and giggles.
Becky - Dental Hygienist
Becky has been keeping smiles bright since becoming an RDH in 1976. Congratulations are now in order since she has recently retired. Her patients and our office will forever be grateful for her compassion for her patients. Our office will miss her dance moves!
Julie - Dental Hygienist
Julie began her career in Effingham, IL. After moving to Bloomington she continued to provide quality care to her patients with Dr. Wieland and Dr. Steadman until their retirement. Julie and her husband, Brian, have three grown children. Their oldest daughter and granddaughter recently relocated back to Bloomington Normal. Her daughter is a Psychiatric Nurse Practitioner. Another daughter who recently was married resides in Houston, Texas where she owns a restaurant. Julie's youngest, a son who works at Illinois State University, is married to a RDH and lives in Gibson City, IL. Our patients enjoy her fun and caring personality as she often fills our halls with laughter.
Ellie - Dental Hygienist
Ellie brings an enthusiastic and vibrant spirit to our office. She is a 1994 Illinois Central College graduate and has been a RDH in our office for 24 years. She lives in Normal with her husband, a Bloomington police detective. They are the proud parents of Brody (15) and Levi.(12). Ellie enjoys reading, attending her sons Taekwondo and band events and spending time with her extended family. Patients appreciate her thoughtful interest in their care and life.
Katie - Dental Hygienist
Katie, who is from LeRoy, graduated from Parkland Community College's Dental Hygiene program in 2018. She is married to Tyler, an electrician, and they are expecting their first baby, a son, in September - on her husbands birthday! Katie enjoys spending time with her and her husbands family and friends. Katie and Tyler have a 2 year old cat, Rocky. Our patients love Katie's sweet demeanor and her concern for their care.
Hiram - Dental Hygienist
Hiram joined our office in 2019. He is a RDH and graduated from Parkland Community College in Champaign. Hiram has been a great fit to our office with his friendly personality. He loves spending time with his big family, especially his nieces and nephews, and loves to play sand volleyball. Hiram has two dogs, Lulu and Mojado.
Lena - Dental Hygienist
Lena's bio is coming soon.
---
Dental Assistants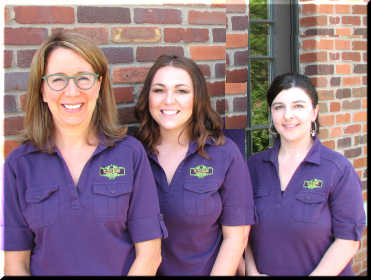 Our Assisting Staff, from left, Kathy, Kali, Anna
Kathy - Dental Assistant
Kathy is a dental assistant who joined our office in 2011. She and her husband Jed, who works at ISU, have three grown children. Their oldest son lives in Morton and works doing digital media for a small company in Peoria. Their youngest son works for Rivian and lives in Normal. Kathy and Jed's daughter is finishing her degree in civil engineering at University of Illinois. Kathy's family has a rescue dog, Ellie, and three rescue cats, Sofi, Obie and Ms. Business. Our patients love Kathy's knowledge of music and sports.
Kali - Dental Assistant
Kali joined our team in 2015 as a dental assistant. Kali and her husband, Zac, have a son Kai and live in Carlock, IL. As a family, they enjoy fishing, four wheeling, canoeing and supporting Kai in his love of hockey and dirt bike racing. Both Kali and her husband are local business owners of Tan-In-Gold spray tanning salon and Chambers Upholstery. They are avid Chicago Blackhawks fans. Our patients appreciate Kali's sweet & genuine nature.
Anna - Dental Assistant
Anna has been a dental assistant for over 15 years. Originally from Poland, she currently resides in Colfax, IL with her husband and three children. Along with working on their small farm, Anna and her husband enjoy turkey hunting and attending their active children's sporting events. Anna is appreciated for making her patients feel at ease while in our office.
Laurie - Dental Assistant
Laurie, a dental assistant, has been with our office since 2018 but has worked in the medical field for 24 years. Laurie and her husband Jeff, who works for Frontier Communications, have two children. Their oldest daughter, Maya, lives in the Chicago area. She recently graduated from Loyola University and is pursuing a masters in nursing. Their son, Holton, will be a senior at Bloomington High School. He continues his passion for playing travel hockey and enjoys golf and baseball as well. Laurie's family also has a beautiful silver lab named Lily.